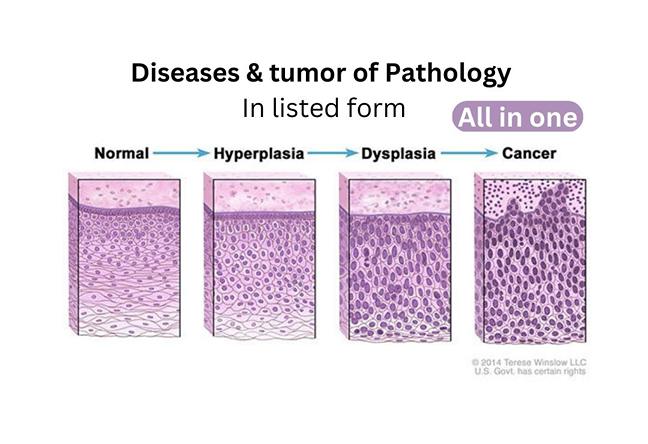 Diseases and Tumors of Pathology
Diseases and Tumor of Pathology
Diseases of Breast Disorder:
---
1. Developmental disorders:
Milk line Remnants: Supernumerary nipples or breasts

Accessory Axillary Breast Tissue

Congenital Nipple Inversion
2. Inflammatory disorders:
Acute mastitis

Periductal mastitis (Squamous Metaplasia of Lactiferous Ducts)

Duct ectasia

Fat necrosis

Lymphocytic mastopathy

Granulomatous mastitis
3. Benign epithelial lesion of breast
Non-proliferative breast changes (Fibrocystic changes).

Proliferative breast disease

Atypical hyperplasia

Atypical ductal hyperplasia

Atypical lobular hyperplasia
4. Tumor of Breast
A. Stromal tumor:
Fibroma, Lipoma, Sarcoma.

Hemangioma, Angiosarcoma
B. Epithelial tumor of breast: Carcinoma of breast
Carcinoma of Breast
Greater than 95% of breast malignancies are adenocarcinomas, which are divided into in situ carcinomas and invasive carcinomas.

Histologic Types of Breast Carcinoma
Morphologic Type of Breast Carcinoma
I) Carcinoma In Situ of breast(15 - 30%)
Ductal carcinoma in situ (80%)

Lobular carcinoma in situ (20%)
II) Invasive Carcinoma of breast (70 - 85%)
No special type carcinoma (NST) (Invasive Ductal carcinoma) (79%)

Lobular carcinoma (10%)

Tubular/ cribriform carcinoma (6%)

Mucinous (colloid) carcinoma: 2%

Medullary carcinoma: 2%

Papillary carcinoma: 1%

Metaplastic carcinoma: <1%
Note: [NST = Invasive Carcinoma of No Special Type = Invasive Ductal Carcinoma]
Diseases of liver
---
Inflammatory disorder:

Acute viral Hepatitis

Chronic hepatitis

Autoimmune hepatitis

Fulminant hepatitis

Due to drugs and toxin induced

Bacterial and parasitic infection:




Bacterial infection: S. aureus, salmonella typhi, Treponema pallidum




Parasitic infection: Schistosomiasis, Entamoeba histolytica, Liver fluke, Echinococcal infections.

Cirrhosis of liver

Alcoholic liver disease

Non-alcoholic fatty liver disease

Liver failure (Acute and Chronic)

Drug and toxin induced liver injury

Inherited metabolic disorder: Hemochromatosis, Wilson Disease, α1-Anti-Trypsin Deficiency

Cholestatic liver disease: Cholestasis, Primary biliary cirrhosis, cholangitis

Circulatory disorders:

Impaired Blood Flow into the Liver: Portal Vein Obstruction and Thrombosis

Impaired Blood Flow Through the Liver: Cirrhosis

Hepatic Venous Outflow Obstruction: Hepatic Vein Thrombosis

Nodules and tumors
Tumor of liver
Secondary (Metastatic) tumor of liver: Commonest (The liver is the most common site of metastatic cancers from primary tumors of the colon, lung, and breast).

Primary tumor of liver
Origin
Benign
Malignant

Hepatocyte

Liver cell adenoma

Hepatocellular carcinoma
Hepatoblastoma


Biliary

Adenoma
Cystadenoma

Cholangiocarcinoma
Cystadenocarcinoma

Vascular

Haemangioma

Angiosarcoma

Mesenchymal

Lipoma

Liposarcoma
Disease of gall bladder
---
1. Congenital: Congenitally absent, Double gall bladder, Aberrant locations.
2. Inflammatory: Cholecystitis
3. Cholelithiasis (Stone in gall bladder)
4. Tumors of gall bladder
Benign: Adenoma

Malignant: Adenocarcinoma (95%), Squamous cell carcinoma (Squamous metaplasia)
Diseases of kidney
---
Congenital Anomalies
Agenesis of the Kidney

Hypoplasia

Ectopic Kidneys

Horseshoe Kidneys
Cystic Diseases of the Kidney
Multicystic renal dysplasia

Polycystic kidney disease
Autosomal-dominant (Adult) polycystic disease

Autosomal-recessive (Childhood) polycystic disease
Medullary cystic disease
Medullary sponge kidney

Nephronophthisis
Acquired (dialysis-associated) cystic disease

Localized (simple) renal cysts

Renal cysts in hereditary malformation syndromes (e.g., tuberous sclerosis)

Glomerulocystic disease

Extraparenchymal renal cysts (pyelocalyceal cysts, hilar lymphangitic cysts)




Glomerular diseases of kidney
1. Primary glomerulopathies:
Acute proliferative glomerulonephritis

Post infectious

Others

Rapidly progressive (Crescentic) glomerulonephritis

Membranoproliferative glomerulonephritis

Membranous glomerulopathy

Minimal-change disease

Focal segmental glomerulosclerosis

IgA nephropathy

Chronic glomerulonephritis
2. Systemic Diseases with Glomerular Involvement
Goodpasture syndrome

Amyloidosis

Diabetes mellitus

Systemic lupus erythematosus

Microscopic polyarteritis/polyangitis

Wegener granulomatosis

Henoch-Schonleinpurpura

Bacterial endocarditis
3. Hereditary Disorders:
Alport syndrome

Thin basement membrane disease

Fabry disease
Tumor of the kidney:
Benign:
Renal Papillary Adenoma

Renal fibroma

Angiomyolipoma

Oncocytoma
Malignant:
Renal cell carcinoma

Wilm's tumor

Urothelial carcinoma of renal pelvis
Histology Classification of Renal cell carcinoma
Clear cell carcinoma (70-80%)

Papillary carcinoma (10-15%)

Chromophobe renal carcinoma (5%)

Collecting duct (Bellini duct) (1%)
Tumors of the Urinary Bladder
---
A. Epithelial
Urothelial (Transitional cell) tumors (90%)
Transitional cell papilloma (Exophytic papilloma, Inverted papilloma)

Papillary urothelial neoplasms of low malignant potential (PUNLMP)

Carcinoma in situ (CIS, or flat non-invasive urothelial carcinoma)

Transitional cell carcinoma (Low grade and high grade)
Squamous cell carcinoma (5%)

Adenocarcinoma

Mixed carcinoma

Small cell carcinoma
B. Mesenchymal: Sarcomas



Grading of Noninvasive Urothelial (Transitional Cell) Tumors
WHO/ISUP Grades (2016)
A. Flat Lesion
Urothelial proliferation of uncertain malignant potential (Flat hyperplasia)

Urothelial dysplasia

Urothelial carcinoma in situ
B. Exophytic Papillary Lesions
Papilloma

Papillary hyperplasia (Urothelial proliferation of uncertain malignant potential)

Papillary urothelial neoplasm of low malignant potential

Papillary urothelial carcinoma, low grade

Papillary urothelial carcinoma, high grade
Diseases of Male Genital System
---
Diseases of Prostate
Prostatitis

Nodular hyperplasia

Prostatic carcinoma: Adenocarcinoma
Diseases of Testis & Epididymis
Congenital anomalies: Cryptorchidism, Synorchism

Regressive changes: Atrophy and Decreased Fertility

Inflammation: Orchitis [Syphilis, Gonorrhea, Tuberculosis, Mumps]

Tumor of testis
Testicular tumor: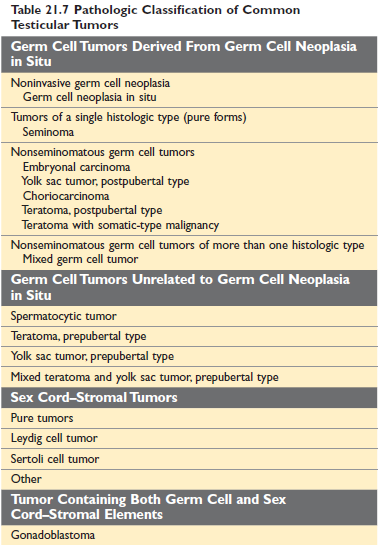 Diseases of Respiratory System
---
A. Congenital Anomalies
Pulmonary hyperplasia

Foregut cyst

Atresia, Stenosis, Tracheo-esopharyngeal fistula
B. Pulmonary Infection
Pneumonia

Lung abscess

Pulmonary TB

Fungal Infection: Aspergillosis
C. Obstructive Pulmonary Disease
Chronic obstructive pulmonary diseases (COPD)

Emphysema

Chronic bronchitis

Bronchial asthma

Bronchiectasis
D. Restrictive Pulmonary Diseases
Fibrosing Diseases: Interstitial Lung Diseases (ILD)

Granulomatous Disease
E. Disease of vascular Origin
Pulmonary embolism & infraction

Pulmonary HTN
F. Others
Atelectasis (Collapse)

Pulmonary Edema

Acute Respiratory Distress Syndrome (ARDS)
G. Tumor like lesion
Hamartoma

Eosinophilic granuloma
H. Tumor of Lung:
Primary
Bronchogenic carcinoma

Mesenchymal origin

Benign: Fibroma, Lipoma, Chondroma, Hemangioma, Leiomyoma

Malignant: Fibrosarcoma, Leiomyosarcoma, etc.

Lymphoma
Secondary/Metastatic (Commonest 90-95%): From breast, GIT, Kidney
WHO histological classification of Malignant Epithelial Lung Tumor (Bronchogenic Carcinoma)
Squamous cell carcinoma (25-40%)

Adenocarcinoma (25-40%)

Adeno-squamous carcinoma

Small cell carcinoma

Large cell carcinoma

Carcinoma with pleomorphic, sarcomatoid or sarcomatous elements

Carcinoma of salivary gland type

Unclassified carcinoma
Neoplasm of salivary glands
---
A. Benign
Pleomorphic adenoma (50%)

Warthin tumor [WOOD]

Oncocytoma

Other adenomas
- Basal cell adenoma


- Canalicular adenoma

Ductal Papilloma
B. Malignant
Mucoepidermoid carcinoma (15%)

Adenocarcinoma (10%)

Acinic cell carcinoma

Adenoid cystic carcinoma

Squamous cell carcinoma

Malignant mixed carcinoma

Other carcinomas
Esophagus
Congenital anomalies: Atresia, Fistula (Tracheo-esopaageal fistula)

Esophagitis (Barrett esophagus & Gastroesophageal Reflux Diseases - GERD)

Esophageal varices

Lesion associated with motor dysfunction: Achalasia cardia,

Tumor
Benign: Fibroma, Lipoma, Leiomyoma
Malignant: Squamous cell carcinoma, Adenocarcinoma
Diseases of Stomach
---
1. Congenital: Pyloric stenosis, Diaphragmatic hernia
2. Gastritis
Acute gastritis

Chronic gastritis
3. Ulcer
Peptic Ulcer Diseases (PUD)

Malignant Ulcer

Acute Gastric ulcer: Curling ulcer, Cushing ulcer, Stress ulcer, Drug induced
4. Tumor of stomach
Benign: Gastric polyps [Adenoma (Adenomatous polyps)], Leiomyoma, Lipoma

Malignant: Adenocarcinoma (90-95%), Lymphoma, Carcinoid
WHO classification of Gastric Tumor (2010)
A. Epithelial tumors
Premalignant lesions
Adenoma

Intraepithelial neoplasia (dysplasia), low grade

Intraepithelial neoplasia (dysplasia), high grade
Carcinoma
Adenocarcinoma

Papillary adenocarcinoma

Tubular adenocarcinoma

Mucinous adenocarcinoma

Signet ring cell carcinoma

Mixed adenocarcinoma

Squamous cell carcinoma

Adenosquamous carcinoma

Undifferentiated carcinoma
B. Mesenchymal tumors [LKGs]
Granular cell tumor

Gastrointestinal stromal tumor (GIST)

Leiomyoma

Leiomyosarcoma

Kaposi sarcoma

Schwannoma
C. Lymphoma
Tumors of Small Intestine & Colon
---
A. Non-Neoplastic Polyps (Tumor like lesion)
Hyperplastic polyps

Hamartomatous polyps (Juvenile polyps & Peutz-Jegher polyps)

Inflammatory polyps

Lymphoid polyps
B. Epithelial (Neoplastic) polyps
Benign: Adenoma (Adenomatous polyps)

Malignant: Adenocarcinoma, Carcinoid tumors
C. Mesenchymal Lesion
Gastrointestinal Stromal Tumor (GIST)

Lipoma, Leiomyoma, Leiomyosarcoma, Hemangioma, Kaposi sarcoma
D. Lymphoma
Tumor of Appendix
Benign: Hyperplastic polyps, Mucinous cystadenoma

Malignant tumor: Carcinoid tumor, Mucinous cystadenocarcinoma, Malignant stromal tumor
Diseases of the Female Genital Tract
---
Congenital

Infections

Tumors

Complications of pregnancy

Hormonally induced effects
A. Infection of the lower genital tract:
Viral: Herpes Simplex Virus (commonly HSV -2), Human Papilloma Virus

Fungal: Candida

Protozoa: Trichomonas vaginalis

Bacterial: Chlamydia trachomatis, Gardnerella vaginalis, Ureaplasma urealyticum, Mycoplasma hominis
B) Infections Involving Both Lower and Upper Genital Tract
Pelvic Inflammatory Disease (PID):
Neisseria Gonorrhoea (Gonococcus), Chlamydia infection, Staphylococci, Streptococci, Coliform bacteria, and Clostridium perfringens
C) Diseases of Vulva:
1. Bartholin cyst
2. Inflammatory dermatologic diseases: Psoriasis, eczema, and allergic dermatitis.
3. Benign exophytic lesions/Wart like lesion (Benign raised lesion)
Condyloma acuminatum/Genital wart (Papilloma Virus induced lesion - HPV 6, 11)

Condyloma latum (Syphilitic Lesion)

Fibroepithelial polyps or Skin tags

Squamous papilloma
4. Premalignant: Vulvar Intraepithelial Neoplasia (VIN)
5. Malignant Tumors
Squamous cell carcinoma

Basal cell carcinoma

Malignant melanoma
D) Diseases of the Vagina:
1. Developmental anomalies
Septate or Double vagina

Vaginal adenosis

Mucous cyst

Gartner duct cysts
2. Inflammation: Vaginitis
3. Neoplastic
i. Benign:
Squamous papilloma, Stromal polyp

Leiomyoma

Haemangioma
ii. Premalignant: Vaginal Intraepithelial Neoplasia
iii. Malignant neoplasm
Squamous cell carcinoma

Embryonal rhabdomyosarcoma (Sarcoma botryoides)
E) Diseases of Cervix:
1. Inflammation: Acute and chronic cervicitis
2. Neoplasm
3. Benign: Endocervical polyp, Leiomyoma
4. Premalignant: Cervical Intraepithelial Neoplasia - CIN (Squamous Intraepithelial Lesion)
5. Malignant neoplasm:
Squamous cell carcinoma (80%)

Adenocarcinoma (15%)

Adeno-squamous carcinoma (5%)

Undifferentiated carcinoma
F) Diseases of Uterus:
Functional endometrial disorders (Dysfunctional endometrial bleeding)

Inflammation:

Acute endometritis,

Chronic endometritis: Chronic PID, IUCD, TB

Endometriosis and adenomyosis

Endometrial hyperplasia

Endometrial polyp

Malignant tumor of endometrium:

Endometrial carcinoma (Endometroid Adenocarcinoma)

Malignant mixed mullerian tumor

Tumor of myometrium:
WHO Classification of Ovarian Neoplasms
---
Surface epithelial-stromal tumors (65-70%)

Sex cord–stromal tumors (5-10%)

Germ cell tumors (15-20%)

Metastatic cancer from nonovarian primary (5%): Colonic, appendiceal, Gastric, Breast
A. Surface Epithelial -Stromal Tumor (65 - 70%)
1) Serous tumors
Benign (cystadenoma)

Borderline tumors (serous borderline tumor)

Malignant (serous adenocarcinoma)
2) Mucinous tumors, endocervical -like and intestinal type
Benign (cystadenoma)

Borderline tumors (mucinous borderline tumor)

Malignant (mucinous adenocarcinoma)
3) Endometrioid tumors
Benign (cystadenoma)

Borderline tumors (endometrioid borderline tumor)

Malignant (endometrioid adenocarcinoma)
4) Clear cell tumors
Benign

Borderline tumors

Malignant (clear cell adenocarcinoma)
5) Transitional cell tumors
Brenner tumor

Brenner tumor of borderline malignancy

Malignant Brenner tumor

Transitional cell carcinoma (non-Brenner type)
6) Epithelial- stromal
Adenosarcoma

Malignant mixed müllerian tumor
B. Sex Cord–Stromal Tumors (5 - 10%)
Granulosa tumors

Fibromas

Fibrothecomas

Thecomas

Sertoli cell tumors

Leydig cell tumors

Steroid (lipid) cell tumors
C. Germ Cell Tumors (15 - 20%)
Teratoma

Immature

Mature

Solid

Cystic (dermoid cyst)

Monodermal or highly specialized (e.g., Struma ovarii: composed entirely of mature thyroid tissue, Carcinoid)

Dysgerminoma

Yolk sac tumor (endodermal sinus tumor)

Mixed germ cell tumors
Cyst of the ovary:
---
1) Non- neoplastic and functional cyst:
Physiological

Follicular cyst

Luteal cyst

Pathological cyst: Non - neoplastic

Polycystic ovarian diseases (PCOD)

Chocolate cyst
2) Neoplastic
Benign:
Serous cyst adenoma

Mucinous cyst adenoma

Dermoid cyst
Malignant
Serous cyst adenocarcinoma

Mucinous cyst adenocarcinoma
Dysfunctional uterine bleeding:
---
Causes: According to age group
1. Prepuberty: Precocious puberty (hypothalamic, pituitary, or ovarian origin)
2. Adolescence: Anovulatory cycle, coagulation disorders
3. Reproductive age:
Complications of pregnancy: abortion, trophoblastic disease, ectopic pregnancy
Organic lesions: leiomyoma, adenomyosis, polyps, endometrial hyperplasia, carcinoma
Dysfunctional uterine bleeding: Anovulatory cycle, Ovulatory dysfunctional bleeding
4. Perimenopausal:
Dysfunctional uterine bleeding: Anovulatory cycle
Organic lesions: carcinoma, hyperplasia, polyps
5. Postmenopausal:
Endometrial atrophy
Organic lesions: carcinoma, hyperplasia, polyps
CNS tumor
---
Primary tumor

Secondary tumor (Metastatic tumors from lungs, breast, skin, kidney and GIT)
Primary brain tumors are rare. Among primary tumor
Glioma 50-60%

Meningioma 25%

Schwannoma 10%
Tumors of CNS:
A. Primary intracranial tumors

1. Tumors of neuroglia: (Glioma)

Astrocyte

Oligodendrocytes

Ependyma

Glioma:

Astrocytoma

Oligodendrogliomas

Ependymomas

b. Tumors of neurons:

Neuroblastoma, Ganglioneuroblastoma, ganglioneuroma

c. Tumor of neurons & neuroglia:

Ganglioglioma

d. Tumors of primitive undifferentiated cells:

Medulloblastoma

e. Tumors of nerve sheet cells:

Schwannoma, Neurofibroma

f. Tumors of meninges

Meningioma, Meningeal hemangiopericytoma, Meningeal sarcoma

g. Malformative tumors:

Craniopharyngioma, Epidermal cyst

h. Tumors of pineal cells:

Pineoblastoma

i. Others:

Lymphoma, Germ cell tumor
B. Metastatic tumors: From lungs, breast, skin, kidney and GIT
Histologic patterns of Meningiomas:
Meningothelial: Named for whorled, tight clusters of cells without visible cell membranes;

Fibroblastic: Elongated cells and abundant collagen deposition;

Transitional: Combine features of the meningothelial and fibroblastic types;

Psammomatous: Presence of numerous psammoma bodies

Secretory: Gland like spaces containing PAS-positive eosinophilic material.
Disease of bones:
---
1. Congenital:
Achondroplasia

Osteogenic imperfect
2. Metabolic:
Osteopenia

Osteoporosis

Rickets and osteomalacia
3. Osteomyelitis
4. Paget disease of bones
5. Fracture of bones
6. Tumors
Diseases of Thyroid gland
---
1. Congenital anomalies: Thyroglossal cyst
2. Thyroiditis
3. Thyrotoxicosis, Hypothyroidism
4. Grave's disease
5. Goiter
Diffuse non-toxic goiter

Multi-nodular goiter
6. Tumors
Causes of thyroiditis
Infectious thyroiditis (Acute/Chronic)

Hashimoto's Thyroiditis

Subacute granulomatous thyroiditis

Subacute lymphocytic thyroiditis

Reidel thyroiditis
Tumor of Thyroid gland
Benign:
Adenoma

Dermoid cyst

Lipoma

Hemangioma

Teratoma
Malignant
Papillary carcinoma (75-80%)

Follicular carcinoma

Anaplastic carcinoma

Medullary carcinoma
Soft Tissue Tumor
---
1. Tumor of adipose tissue:
Benign (Lipoma)

Malignant (Liposarcoma)
2. Tumor of fibrous tissue
Benign (Fibroma)

Malignant (Fibrosarcoma)
3. Tumor of skeletal muscle
Benign (Rhabdomyoma)

Malignant (Rhabdomyosarcoma)
4. Tumor of smooth muscle
Benign (Leiomyoma)

Malignant (Leiomyosarcoma)
5. Vascular tumor
Benign (Hemangioma)

Malignant (Angiosarcoma, Hemangiopericytoma)
6. Peripheral nerve sheath tumor
Benign (Neurofibroma, Schwannoma)

Malignant (Malignant schwannoma)
Tumors of Skin
---
1. Benign epithelial tumors
Seborrheic keratosis

Acanthosis nigricans

Adnexal tumor

Keratoacanthoma
2. Pre malignant epidermal tumors
Actinic keratosis

Actinic cheilitis
3. Malignant epidermal tumor
Squamous cell carcinoma

Basal cell carcinoma

Merkel cell carcinoma

Paget disease of skin
4. Tumors of dermis
Xanthoma

Benign fibrous histiocytoma

Dermal vascular tumor