Ludo & PUBG Mobile Tournament (Updated: Match Date & Time)
Emedicodiary's Team is going to conduct the Ludo & PUBG Mobile Tournament as the Promotional Purpose and a way for refreshment purposes too.
So Everyone is welcomed.

Hurry Up..
Today is the last date to submit your form.
And tell your friends as well.

Deadline To Submit:
---
Submit your form till 4th July.

Entry Fee:
---
Completely Free. Everyone is invited.

Match Day:
---
About the game date, follow up on our official Facebook page. We will update you about the match date very soon on this website too.
Match Day For PUBG Mobile
Total All Participated Team has to play 3 games in PUBG. And the winner will be selected a/c to points.
For 9th July
Point Division for Every match (applied in all 3 games)
Winner team - 10 points
2nd team - 8 points
3rd Team - 6 points
4th & 5th team - 5 points
6th & 7th team - 4 points
8th & 9th team - 3 points
10th team - 2 points
Plus
1 point will be added for each kill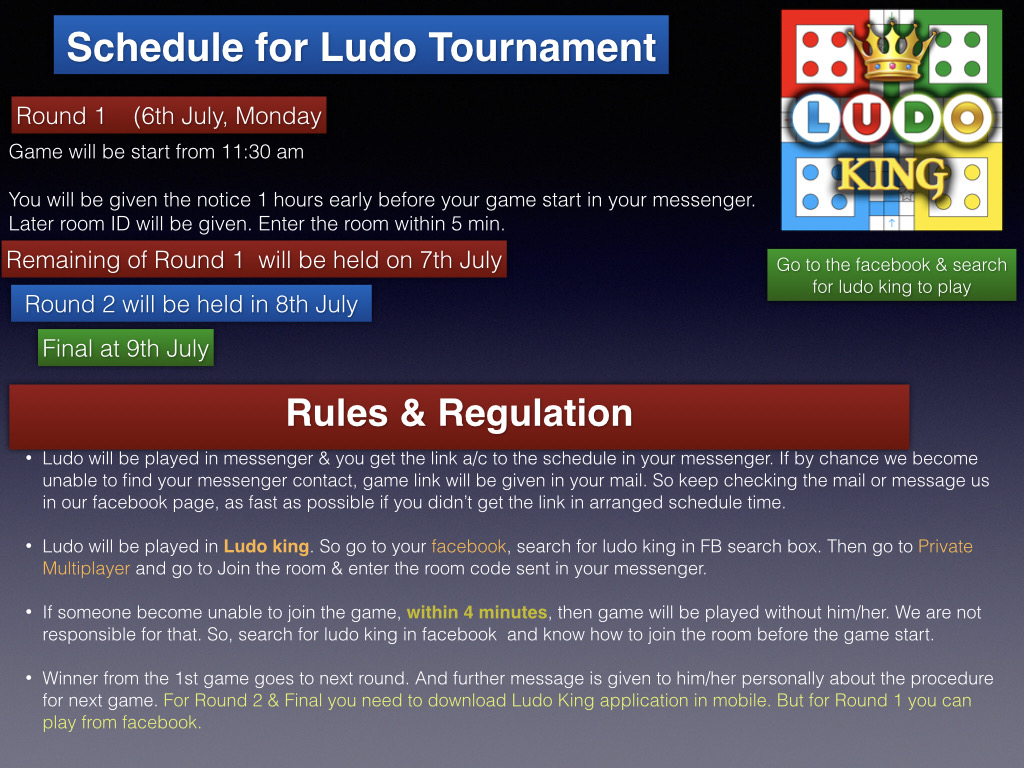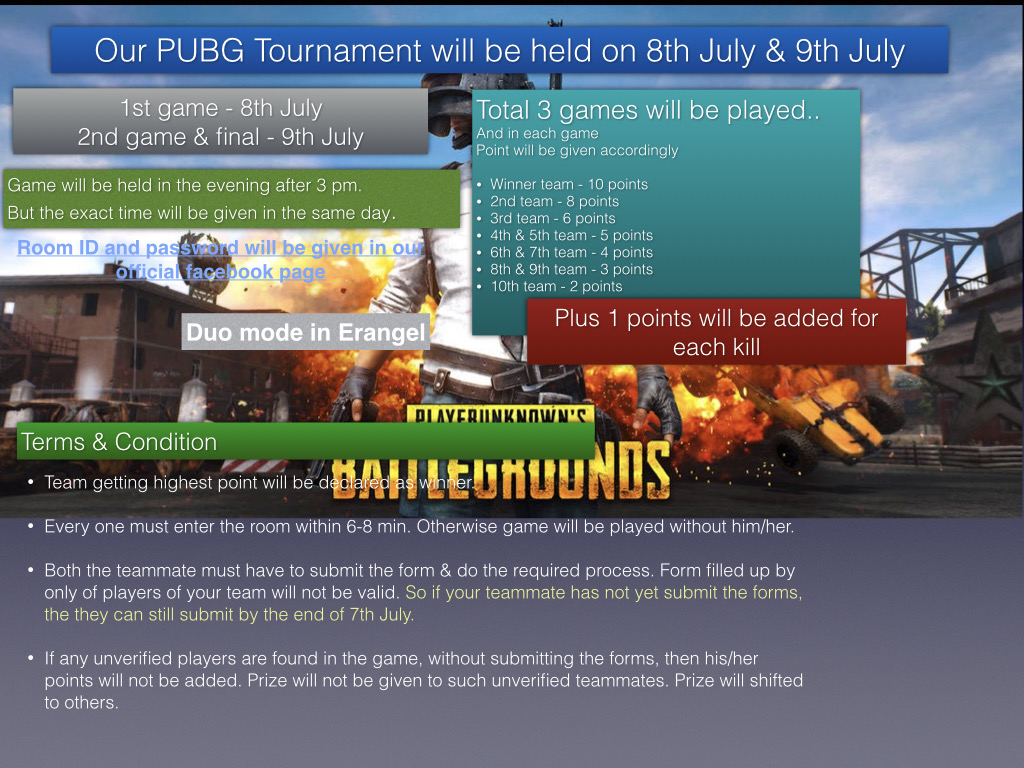 Prize:
---
For Ludo
• Winner - Rs.800
• 1st Runner Up - Rs.500
• 2nd Runner Up - Rs.300
For PUBG Mobile
• Winner Team - Rs.1000
• 1st Runner UP - Rs.600
• Highest KIll - Rs.300
We will announce the winner on our official Facebook page.

Prize is given through esewa. Prize must be claimed before 1 month of the match date. If you become unable to claim before validate date, after that you cannot claim after.

Terms & Condition
---
Before, we continue, you have to follow the following terms & conditions to take part in our tournament.
• One must sign up in our Emedicodiary Website
Click Here to Sign Up
• One must like our Facebook official page.
Click Here to Like our Official Facebook Page
• One must subscribe to our Youtube Channel.
Click it to Subscribe Our YouTube Channel
• If you have not done any of the above, then we have the right to cancel your participation, which will eventually hamper to your teammate too.

• After the verification from the above data only, one is allowed in the game.
• If you fail to mention the correct information in the form, then we are not liable for your cancellation of the game.

• All policies can be changed according to the need by Emedicodiary Teams.
For PUBG Mobile:
• Two players (Duo mode-in Erangel) will be played. So, choose your team accordingly.

• Rough, bad words & scolding others unnecessarily are strictly prohibited. Please maintain a friendly environment.
• Your teammate also should do the same processes otherwise he/she will not be valid.
• Game will be not exactly live streamed but will be published on our YouTube Channel.
•
Everybody is requested to join the room within the 7-9 min of the given time. Otherwise, we won't be responsible for not being able to participate. Risk is upon yours.
•
Evey team members should submit the forms. If any of the members of a team has not been registered, then they cannot claim for the prize. Prize will be shifted to consecutively ranked teams. So your teammate should also submit the forms.
For Ludo
• Solo game is played among four players.
• Ludo will be played in the messenger and you are given link in the messenger. If we became unable to find your Facebook id, then we will sent you an email regarding the game, so be responsive.
• As only four can be played in one game, it may take quite a long time to held. So time table is given to you on our Facebook page as well as on this website too, so come in time, otherwise, we will not be responsible.


• Everyone is requested to join the room according to the schedule which will be published on our Facebook page. If someone becomes unable to participate in a given time schedule, then sorry from us. (We won't be responsible for that)
Game format & modality will be published after 4th July according to the no. of participation.
If you have fulfilled the above-mentioned requirement & agree on all terms & conditions, then only you are allowed to fill up & submit the form.


To fill-up the form, the link is given below.
Click the link and submit your form as soon as possible.
Notice:
If you still have any queries, then you can chat with us on our Facebook Page.