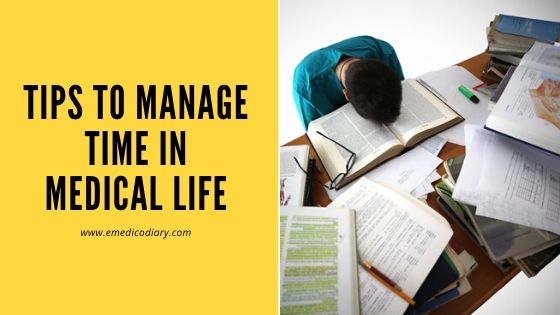 Tips To Manage Time In Medical Life
MBBS is one of the tough course. In a short time, you have to study many subjects. Due to a lack of time management, you have to face the mental and physical problems. Hard work is the most important thing but if you cannot manage your time your hard work will be useless. So, to cover your course in time you should be smart and must know how to manage the time. Here are 7 tips to manage time in medical life.
1. Planning for a week
Short term planning never works in the medical field. You have to attempt the lecture and tutor classes. You have to face many exams and you have to attempt some programs too. So, you have to make a plan for a week so that you can follow your routine without making any changes. You have to schedule for all the activities which you are going to do this week like a gym session, movie, visiting some places, attempting friend's birthday, etc. so planning for a week is the first tip to manage time in medical life.
2. Make a habit to follow your routine
The second tips to manage time in medical life is to make a habit to follow your routine. Making a routine is no big deal. You have to make a habit to follow it regularly. If you will follow regularly then it will be your habit and you will feel easy to follow it. Before one day of the exam you use to read up to late-night, it will bring an impact on your health. It will decrease your energy, it affects your focus. Set a time so that your body will feel easy to perform any activity on a regular basis.
3. Create a good environment
Creating a good environment plays a vital role in the life of medicos. So it can be also regarded as the third tip for time management in medical life. Only perform those activities which you have scheduled. Try to put your cell phone away during the study. Sign out all the social media, email, or any update you want to get. Try to read in a peaceful environment. You should focus on your homework or study. If you will start to perform other activity then it may drag your time longer then you need. If you can do quality study in time then you can perform other activities freely without any stress.
4. Regular classes and focus on your lecturer
If you will attempt your classes regularly then you will be upgraded regularly. So, that you can cover your course on time. While attempting any classes try to focus on your lectures, what they are teaching. If you can clear your concept in class then it will take less time in your home.
5. Subject wise prioritize
While setting your schedule tries to give more time to those subjects which is more important in the exam, which has more content. If you can manage it properly then you should not bring any changes In your schedule later on.
6. Take your own exam
Make a schedule such a way that you can examine yourself how much you have a study that day. Either it was effective or not. It will help you to bring more confidence during the exam. You will feel free from stress. It will encourage you to follow your schedule and learn more.
7. Refreshment
Make a schedule that can bring changes to you. If you study continuous then it will not be effective. Your mind cannot concentrate properly. You have to do rest too. You can schedule your time for walking, meeting friends, watching comedy and for other creative work. You will never get bored and your lifestyle will become joyful.
If you can follow all the steps honestly then you can feel changes in you in a short period of time. You can give the best in your studies. Finally, you can give the best doctor to the nation and your family.
Also read about : becks triad